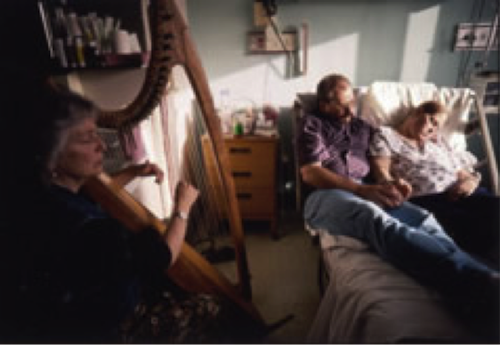 In 2023, the Chalice of Repose Project is celebrating fifty years of music-thanatology history. During this particular calendar year, we note multiple new publications as well as education and outreach efforts. But to get a sense of the long view, we step back and first acknowledge the seminal music-thanatology event that occurred in 1973 with the Founder's experience of the man dying of emphysema. That seed was also a flame. Inspiration grew organically and authentically. It grew from patient work and scholarship developed by an individual aided and encouraged by many into a discipline, a vocation, and a profession. More than thirty years ago, the music-thanatology pioneered by Therese Schroeder-Sheker was welcomed as a medical modality and the flagship organization of the Chalice of Repose Project pioneered and delivered music-thanatology excellence in end-of-life palliative care. The work and the mission of the Chalice of Repose Project spread nationally and internationally and has served many. The music-thanatology work taught and delivered by the Chalice of Repose Project has served countless numbers of dying individuals and their loved ones, and our publications have been used in university nursing and medical school classrooms, and in many humanities classrooms – theology, anthropology, psychology, music — for decades.  Each of the five decades we mention here have been characterized – like a well-tended orchard — by transformation and development. Each era supported different kinds of focus and expansion, as well as pruning and transplanting. The pandemic era brought unexpectedly complex challenges while amplifying already existing opportunities for service and spiritual reflection. We are pleased to say that 2023 has included multiple plenary address presentations at national and regional events, new publications in three journals, an artist and theologian in residency program at the Cathedral of All Saints in Albany, New York, and the forthcoming Christmas release of a new CD recording funded by a generous donor.
The Chalice of Repose Project remains the first and original music-thanatology program in the entire world. Our formal associates have a distinguished history of clinical care, publication and a specific pedagogical experience and formation. Despite a pandemic, the nature and content of our mission and work have not changed; we have only adjusted ourselves appropriately in light of the news of changed needs. The actual bedside work of music-thanatology – professional working with the dying – continues to take place in person, human to human, not through the apparatus of telemedicine. Additional work continues to include consultancy advice and pastoral care communications to grieving surviving loved ones. Because of the inherent limitations of the audio and visual technology available, in combination with the subtleties required in observation and delivery, and because of our original and on-going commitment to increased human-to-human engagement to offset technology, we have never been advocates of a telemedicine alternative for the actual physical and spiritual music-thanatology care of the dying, but the opposite. Though it certainly may serve in other kinds of medical settings, we think telemedicine is a contraindication for the delivery of prescriptive music in music-thanatology. Under the rubric of beauty, intimacy, reverence, our formal music-thanatology associates still come directly to the bedside of the one who is dying. Each works in person with individual patients and families wherever and whenever they are called to do so through the hospital or hospice referral system.
For those who are interested in more information on the Chalice of Repose Project or contemplative musicianship or the history of the field of music-thanatology, these areas are detailed in  several excellent published resources. 
One is authored by Therese Schroeder-Sheker and is a book titled Transitus: A Blessed Death in the Modern World. A second is a publication by the international journal MUSIC AND MEDICINE.  Please go to International Association for Music and Medicine (IAMM) and look for Volume 9, Number 2, April 2017, and find the lengthy article by Therese Schroeder-Sheker entitled "The Chalice of Repose Project's Music-Thanatology History and Praxis."  For the purposes of the web, we have decided to encapsulate the 50 years in broad-brush outlines here, and keep readers informed of newest developments in as much detail as is possible. However, we don't update the web pages as often as is ideal. The first volume of Therese Schroeder-Sheker's long-awaited Angelico Press multi-volume work The Luminous Wound is now in final revisions. It will provide in depth coverage and information meaningful to professionals and lay readers alike. We will post that news as the volumes come off the press.
QUICK SYNOPSIS OF FIFTY YEARS
Most Current (October 2023): Over the decades, we have flourished in several different physical locations and served within several different educational, clinical and corporate structures. As the needs of the profession, the organization, the School of Music-Thanatology, Contemplative Musicianship, the faculty, graduates and students repeatedly and exponentially changed, shifted, expanded and grew, we too made important responsive moves to refine and sustain our intentions.  
(2002 to 2021) In October of 2002, we relocated to Oregon, and were able to expand the mission-related clinical, pedagogical and publishing work in order to serve in new and essential ways. We re-incorporated in 2003, developed new platforms and curricula, and in the Fall of 2004, began receiving applications for new online courses that would matriculate in mid-January 2005. Since 2005, we have offered two adult-education certificate-bearing graduate level programs online: Contemplative Musicianship and Music-Thanatology. During the previous nineteen years (2002 to 2021) we have been able to make the work available nationally and internationally and also publish a good deal of new material available in print, broadcast, documentary and podcast systems. During that time, we have developed additional courses and events for students and graduates, and also offered specific courses through other institutes and universities, including Duke University and The Catholic University of America. However, the Chalice of Repose Project has always remained an independent clinical, educational and publishing institute.  Though grateful to all, and indebted to many, the Chalice of Repose Project is not part of any single hospital nor a hospital system, a university or college department, nor is it a part of a church. We do enter into corporate affiliate contracts with hospitals to implement and mentor clinical internships and field-placements, and those affiliations are of limited duration. We are value-centered yet remain an independent institute.
Past Encapsulation of History: (1973 to 2002): The nineteen pioneering years in Denver, Colorado included the original efforts at Ars Antiqua, a center for medieval musicology, followed by an undergraduate program at Regis College (later called Regis University), and finally a master's degree program in pastoral theology and pastoral care at St. Thomas Theological Seminary. In 1992, in response to a corporate hospital invitation, Therese Schroeder-Sheker decided to relocate the Chalice of Repose Project and the School of Music-Thanatology to Missoula, Montana, a small university town in the American Northwest near the Canadian border. She made that decision because the work had been welcomed as a medical modality in 1991. There, in Missoula, Chalice work shifted from the contained and protected world of seminary life and seminary academia into the bustling and chaotic heart of corporate medicine.
While in Missoula, Chalice of Repose Project was located in two different buildings over the course of a decade. The period from 1992 to 2002 included a fruitful alliance with St. Patrick Hospital, (founded by the Sisters of Providence), and four of the long-term geriatric care facilities of The Goodman Group/Sage Corporation. We also served a local hospice, and peripherally, the local Community Hospital, and attended patients in hospitals and hospices in both Helena and Hamilton, Montana.
Rolling Admissions: Gradually, the Chalice of Repose Project in Oregon completed twenty-three large and small separate cohorts of online classes. The student profile is and remains national, international and spiritually diverse. For the past nine years however, from 2014 to the present, 2023, the enrollment process is available on a rolling admissions basis, (RA) rather than large cohorts. This means that an individual may apply at their own time frame, rather than waiting for a new year and new cohort. It is our intention to retain the rolling admission format rather than return to cohorts.
The Opportunity to Learn about Us: The work of music-thanatology has been imitated, at times, by efforts to simply bring harps and harpists or musicians into hospital settings under the rubric of palliative care. We invite you to discover more about the Chalice of Repose Project and the rigor of our work.   Being the first of its kind, the Chalice of Repose Project is the premiere music-thanatology organization in the world. Our formal associates are leaders in the field, with maximal clinical, pedagogical, and publishing experience.
Verification Service: The Chalice of Repose Project is the only organization able to verify the music-thanatology education of our own past or present associates. We advocate the value of formal, back-ground fact-checking because there is erroneous information circulating through the internet, and we have discovered that some individuals who have never applied to or attended our programs have misrepresented themselves to hospitals or hospices as having graduated from or completed our programs. If you would like to verify that an individual enrolled in and/or successfully completed any of our courses, at any time, and in any location, from 1987 to the present, please contact the Registrar by writing info@chaliceofrepose.org. Our commitment is to continue grounding the field in the world with integrity, artistry, spirit and substance, and in so doing, we bring the palliative and pastoral work to hospitals, medical settings and communities throughout the world.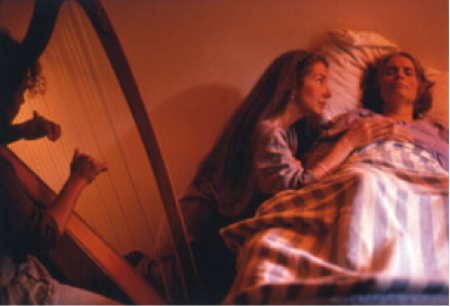 The Mystery of the Human Being: Music-thanatology brings together a disciplined and very particular contemplative curriculum which, in the end, draws upon the medical sciences and the humanities, in equal proportion, and re-unites medicine, spirituality and music with one another, so that the work is both an art and a science. Our primary focus is on the patient and on the mystery of the human being who is becoming more thoroughly human even as they are dying. We work towards the relief of physiological pain and spiritual suffering that may be eclipsing the quality of life at the end of life. If pain is so extreme that it prevents interiority, the palliative care team can offer a modality of compassionate care so that an inner life may be cultivated or protected.
Dying and Becoming: In this light, we work to facilitate conditions in which an individual may find meaning even in their diminishment. We are committed to bringing the experience of death back into the fullness of the life cycle, and of supporting the shared experience of death with loved ones and communities, thus helping to transform the personal and collective experiences of dying and becoming. We are further committed to the possibilities of a blessed, peaceful and/or conscious death, especially when lovingly and deeply supported. Our second focus is on the health of the musician-clinician (and other providers and care-givers), for how we really are affects the vulnerable patient, their loved ones, and the entire health care team. We hope that this work inspires readers from many walks of life, all of whom might be seeking new and living ways of being within the fullness of the human life cycle.
End of Life Care: The Chalice of Repose Project programs for the care of the dying take place in cities across the country, from coast to coast. Though Oregon is the national headquarter for the corporation, Chalice has formal colleagues and associates in multiple locations.  Readers may write to receive information on seminars Therese Schroeder-Sheker is offering through events or activities being hosted by professional organizations or other institutes.
All content © Chalice of Repose Project 2003 – 2023. All rights reserved internationally.   Kindly write the office to request permission to quote this page in your publication.  We will respond as quickly as possible to reasonable requests presented in a respectful timeframe.
Last updated October 9, 2023.